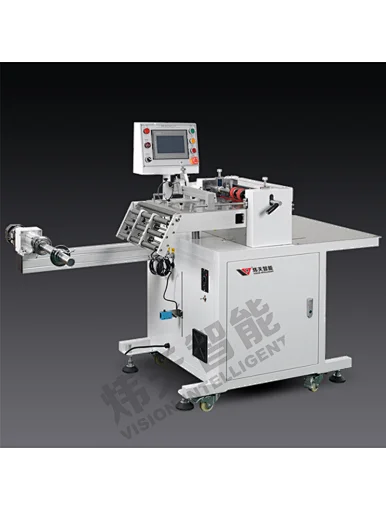 Automatic computer splicer
1. This machine is a professional device of tape processing industry. It has high precision, reliable performance, durability and safety.

2. It can realize automatic and independent splicing automatically and easily.

3. It counts and splices automatically.

4. The maximum splicing speed reaches 180 times per minute.

Seeking target and fixed length splicing:

1. Only length shall be set when splicing by fixed length.

2. Precision is 0.4% of set length.

3. Seeking target splices are used to discharge waste product splices.

4. Any many products can be spliced as one sheet.

5. Trace products automatically or set other marks.

6. Be sure to splice in product gap quickly and in an orderly manner.
| | | |
| --- | --- | --- |
| Name | RSQ-A350 | RSQ-A450 |
| The maximum feed width | 350mm | 450mm |
| Maximum slice width | 300mm | 450mm |
| Maximum Pullingspeed | ≤80m/mim | ≤50m/min |
| Maximum slice speed | ≤12000pcs/h | ≤12000pcs/h |
| Control mode | Independent servo drawing | Independent servo drawing |
| Positioning mode | Magic eye  | Magic eye  |
| Slicing precision | ±0.1mm | ±0.1mm |
| Material quality of rack | Square pass welds | Square pass welds |
| Outlinedimensions | 1750mm*1000mm*1250mm | 1750mm*1000mm*1250mm |
| Total power | 1.1kw | 1.1kw |
| Net weight  | 95kg | 100kg |
| | | | |
| --- | --- | --- | --- |
| Name | RSQ-A550 | RSQ-A650 | RSQ-A1300 |
| The maximum feed width | 550mm | 650mm | 1200mm |
| Maximum slice width | 500mm | 600mm | 12000mm |
| Maximum Pullingspeed | ≤80m/mim | ≤80m/mim | ≤60m/mim |
| Maximum slice speed | ≤12000pcs/h | ≤12000pcs/h | ≤6000pcs/h |
| Control mode | Independent servo drawing | Independent servo drawing | Independent servo drawing |
| Positioning mode | Magic eye  | Magic eye  | Magic eye  |
| Slicing precision | ±0.1mm | ±0.1mm | ±0.15mm |
| Material quality of rack | Square pass welds | Square pass welds | Square pass welds |
| Outlinedimensions | 1200mm*1300mm*1000mm | 1200mm*1400mm*1000mm | 1700mm*1850mm*1000mm |
| Total power | 2.5kw | 2.5kw | 3.5kw |
| Net weight  | 200kg | 200kg | 200kg |