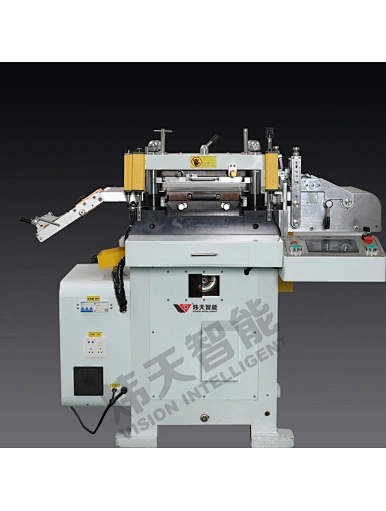 High-precision integration seeking die cutter
1. Fast die cutting,The maximum die cutting speed is 18,000 times/h.

2. Precision and convenient electric pressure regulation,It can increase commissioning efficiency greatly.

3. Feed rack uses tuning device for more convenient regulation.

4. The entire machine is protected by light curtain of mirror
surface. It can realize multi-surface protection for more safe and reliable machine operation.

5. It can realize automatic integrated blanking for many times easily. The maximum integrated blanking precision reaches ±0.03mm.

6. Standardize hardware die and installation so that it can be used for hardware die of other die cutting standards.

7. It supplies oil automatically with low noise of the entire machine. It can be used by any combination of gluing machine and splicer.
Name

RS-G250

RS-G300

Feed width

270mm

310mm

The maximum die cutting area

250mm*200mm

300mm*250mm

The maximum operating speed

18000pcs/h

18000pcs/h

Stroke of die seat

26mm

26mm

Stroke regulation quantity

30mm

30mm

Pulling material precision

±0.1mm

±0.1mm

Integration seeking precision

±0.05mm

±0.05mm

Closing height of hardware die

75mm-95mm(Adjustable)

75mm-95mm(Adjustable)

Dimensions of lower template

250mm*200mm*40mm

350mm*270mm*39.5mm

Dimensions of upper template

250mm*200mm*29mm

350mm*270mm*29mm

Lubrication mode

Automatic circulation and oil supply

Automatic circulation and oil supply

Applicable knife die

Wooden plate die, rubber plate die, AB die, 
hardware die, QDC die, corrosion die, etching die

Wooden plate die, rubber plate die, AB die, 
hardware die, QDC die, corrosion die, etching die

Pressure regulation mode

Auto pressure regulation

Auto pressure regulation

Total power

5.1kw

5.1kw

Outline dimensions

1300mm*1100mm*1320mm

1500mm*1300mm*1350mm

Net weight of machine

1200kg

1500kg
Name

RS-G350

RS-G450

Feed width

360mm

460mm

The maximum die cutting area

350mm*300mm

450mm*390mm

The maximum operating speed

18000pcs/h

12000pcs/h

Stroke of die seat

26mm

26mm

Stroke regulation quantity

30mm

30mm

Pulling material precision

±0.03mm

±0.03mm

Integration seeking precision

±0.05mm

±0.05mm

Closing height of hardware die

75mm-95mm(Adjustable)

84mm-104mm(Adjustable)

Dimensions of lower template

400mm*320mm*40mm

480mm*410mm*40mm

Dimensions of upper template

400mm*320mm*29mm

480mm*410mm*38mm

Lubrication mode

Automatic circulation and oil supply

Automatic circulation and oil supply

Applicable knife die

Wooden plate die, rubber plate die, AB die, 
hardware die, QDC die, corrosion die, etching die

Wooden plate die, rubber plate die, AB die, 
hardware die, QDC die, corrosion die, etching die

Pressure regulation mode

Auto pressure regulation

Auto pressure regulation

Total power

6.5kw

9.6kw

Outline dimensions

1600mm*1350mm*1350mm

1750mm*1600mm*1350mm

Net weight of machine

1800kg

2000kg