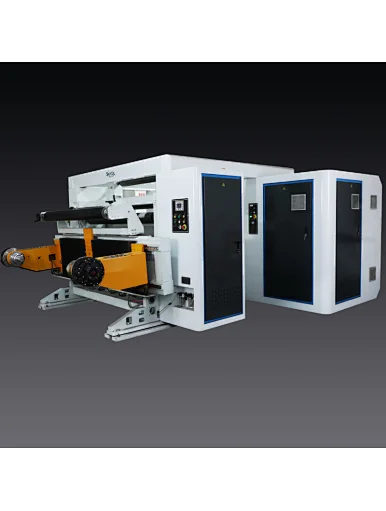 High speed slitting rewinding machine
1.Siemens PLC and human-machine interface, with meter-counting automatic shutdown, the remaining amount is automatically
motion detection, automatic speed regulation of line speed, working parameters can be set and operating status displayed on the screen.

2.The main machine and the rewinding adopts the independent servo motor and PLC of the domestic first-line brand for follow-up control, with a pre-tension system, high speed and stable tension.

3.3" and 6" air shafts are used interchangeably for rewinding, and automatic hydraulic unloading saves time and effort.

4.Unwinding adopts integrated 3"/6" universal shaft-less loading, automatic hydraulic feeding, strong and powerful.

5.Equipped with a negative pressure paper connection platform, saving time for material change.

6.Web Guiding System uses EPC Web Guiding System

7.The execution and locking are pneumatically.

8.Traction adopts large diameter steel roller.

9.The slitting method adopts the upper and lower shear knives.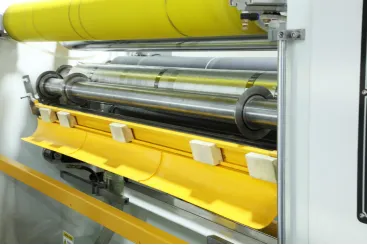 | | | |
| --- | --- | --- |
| NO. | name | CLR1700 |
| 1 | Unwind Web Width  | 1700 mm |
| 2 | Rewind DIA | ∮1350mm |
| 3 | Rewind DIA | ∮1350mm |
| 4 | Slitting width  | 100mm - 1600 mm |
| 5 |  slitting Speed  | 500m/min |
| 6 | Inner diameter of paper roller | 3 inch、6 inch |
| 7 | Accuracy of slitting |  ±0.2mm |
| 8 | Voltage  | 380V |
| 9 | Total power | 100KW |
| 10 | Dimension | L4500 *W4000*H2150 |
| 11 | Weight |  7000KG |