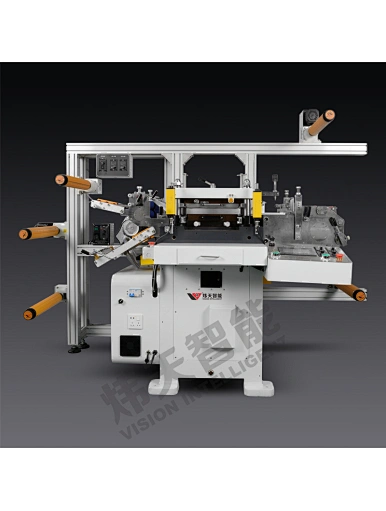 In-mold asynchronous high speed die-cutting machine
1.With in-mold asynchronous function, which can realize traced asynchrony and positioning asynchrony.

2.Double servo drive, low noise, stable pressure, accurate pulling material.

3.Die-cutting host, laminating machine, slicer, can achieve automatic connection.

4.Adopting electronically controlled pressure regulation and automatic lubrication system.

5.QDC dies can be installed

6.Stroke adjustment, one key switch, four kinds of die height selection.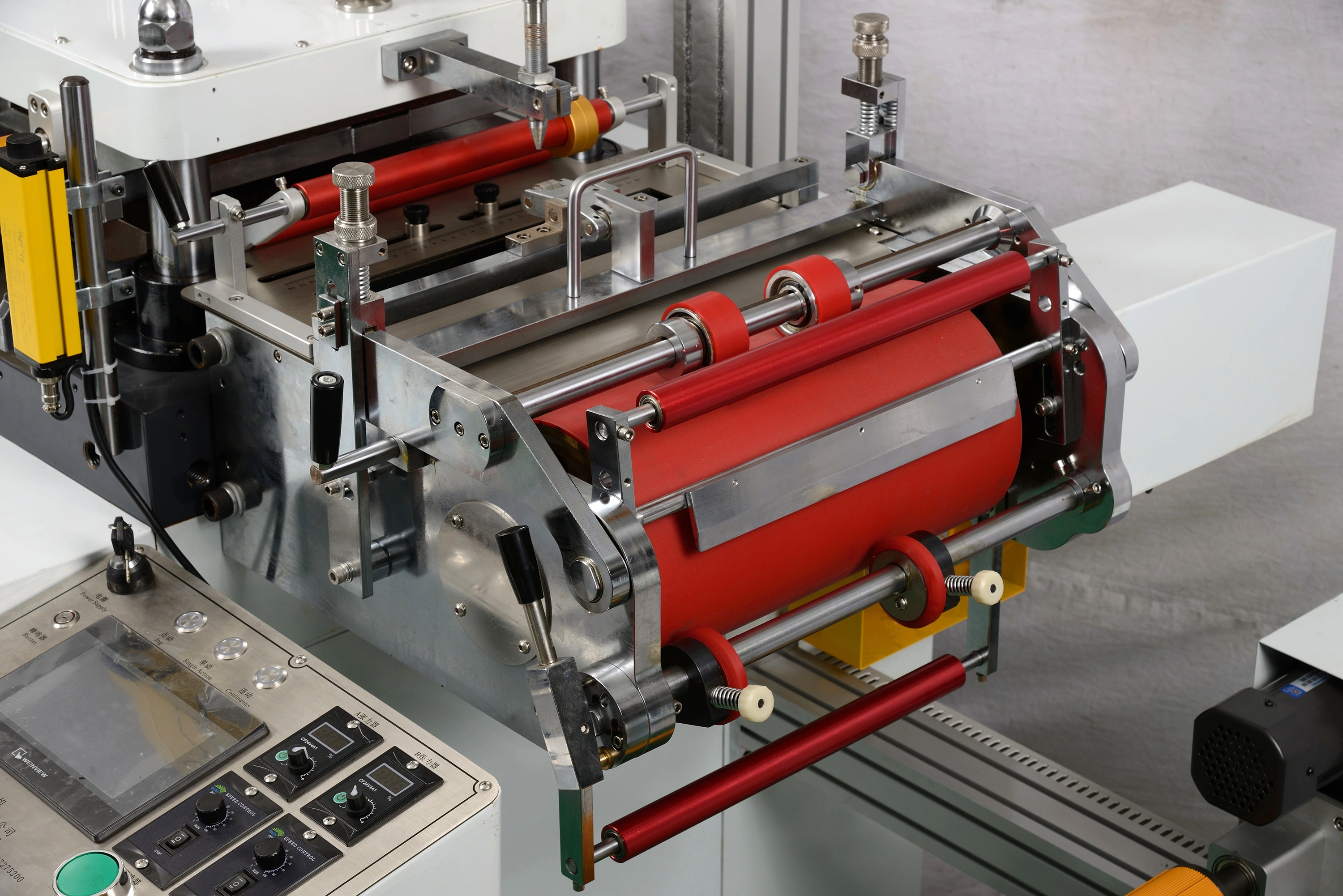 Name

RS-N300

RS-N350

RS-N450

Remark

Feed width

310mm

360mm

460mm

RSG high speed 
precision die cutting 

The maximum die cutting area

300mm*250mm

350mm*300mm

450mm*390mm

The maximum operating speed

18000pcs/h

15000pcs/h

12000pcs/h

Stroke of die seat

26mm

26mm

26mm

Stroke regulation quantity

30mm

30mm

30mm

Pulling material precision

±0.03mm

±0.03mm

±0.03mm

Integration seeking precision

75mm-95mm(Adjustable)

75mm-95mm(Adjustable)

84mm-104mm(Adjustable)

Closing height of hardware die

350mm*270mm*39.5mm

400mm*320mm*39.5mm

480mm*410mm*40mm

Dimensions of lower template

350mm*270mm*29mm

400mm*320mm*29mm

480mm*410mm*38mm

Dimensions of upper template

Automatic circulation and oil supply

Automatic circulation and oil supply

Automatic circulation and oil supply

Lubrication mode

Wooden plate die, rubber plate die, 
AB die, hardware die, 
QDC die, corrosion die,
 etching die

Wooden plate die, rubber plate die,
 AB die, hardware die, 
QDC die, corrosion die,
 etching die

Wooden plate die, rubber plate die, 
AB die, hardware die,
 QDC die, corrosion die, 
etching die

Applicable knife die

Auto pressure regulation

Auto pressure regulation

Auto pressure regulation
Name

RS-N300

RS-3N50

RS-N450

Remark

Asynchronous feeding width

310mm

350mm

450mm

 RSN Automatic in-die asynchronous die cutting

Asynchronous feeding precision

±0.03mm

±0.03mm

±0.03mm

Feeding method

Servo feeding

Servo feeding

Servo feeding

Control mode

Magnetic powder
 control tension

Magnetic powder 
control tension

Magnetic powder 
control tension

Rewinding axis

1set

1set

1set

Unwinding axis

3set

3set

3set

 RSN Automatic in-die asynchronous die cutting+RSG high-speed machine

Total power

7.2kw

11.7kw

7.2kw

Outline dimensions

2700mm*1300mm*1850mm

2700mm*1350mm*1850mm

2850mm*1600mm*1850mm

Net weight of machine

1800kg

2100kg

2100kg