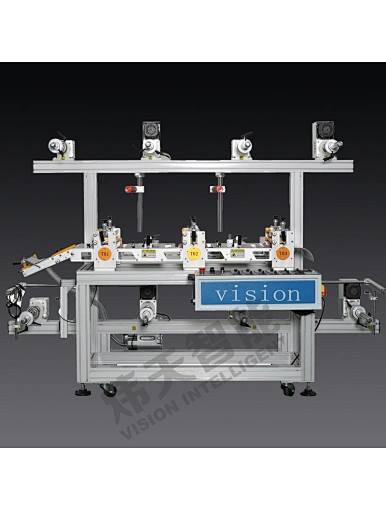 Multifunctional matching machine
1. This machine is especially used for siphac gluing waste discharging of multi stripe and multi-layer tape, thin film and release paper, etc.

2. Siphac gluing positioning precision is ±0.1mm. It has strong functions and high operating efficiency.

3. It has flexible machine configuration and adds adjustment and speed regulation functions at any time so as to meet processing demand to the greatest extent.

4. Various parts can realize independent adjustment, speed regulation and tension regulation, etc for convenient control operation.

Feeding device:

1. Positioning materials provide for tension and guarantee straight and linear materials.

2. It can facilitate coiling and uncoiling. Receiving and emptying axles in twoends can rotate and load materials.

Composite roll:

Many groups of composite rolls can be used for composition and waste discharging of
multi-stripe and multi-layer materials. Composition roll pressure can adjust conveniently.
Gap of upper and lower rolls can adjust. Axial movement of composite positioning ring
can be realized easily by end surface and tuning bolt.

Waste discharger:

Waste discharging knife on waste discharging platform can combine with many groups
of waste discharging over-rolls and gains flexible and strong functions.
It can adjust conveniently and realize automatic waste discharging of most of products
basically

Operation panel:

Centralized control of electric apparatus can adjust conveniently with strong functions
and random manual/automatic conversion.
| | | | |
| --- | --- | --- | --- |
| Name | RSH-L350-2T | RSH-L350-3T | RSH-L350-4T |
| The maximum feed width | 370mm | 370mm | 470mm |
| The maximum gluing width | 350mm | 350mm | 450mm |
| The maximum operating speed | 0-30m/min | 0-30m/min | 0-30m/min |
| Control mode | Magnetic powder control tensionr | Magnetic powder control tensionr | Magnetic powder control tensionr |
| Combined machine mode | Opo-electric | Opo-electric | Opo-electric |
| Positioning precision | ±0.1mm | ±0.1mm | ±0.1mm |
| The maximum coiling diameter | 500mm | 500mm | 500mm |
| Material receiving axle | 2set | 4set | 5set |
| Uncoiling axle | 3set | 4set | 5set |
| Outline dimensions | 1900mm*1200mm*1700mm | 2450mm*1200mm*1700mm | 3000mm*1200mm*1700mm |
| Net weight of machine | 300kg | 400kg | 480kg |
| Total power | 1.13kw | 1.41kw | 1.55kw |
| Power | Single-phase220V | Single-phase220V | Single-phase220V |
| PU/silicone roll | 70-75degrees | 70-75degrees | 70-75degrees |
| | | | |
| --- | --- | --- | --- |
| Name | RSH-L450-2T | RSH-L450-3T | RSH-L450-4T |
| The maximum feed width | 470mm | 470mm | 470mm |
| The maximum gluing width | 450mm | 450mm | 450mm |
| The maximum operating speed | 0-30m/min | 0-30m/min | 0-30m/min |
| Control mode | Magnetic powder control tensionr | Magnetic powder control tensionr | Magnetic powder control tensionr |
| Combined machine mode | Opo-electric | Opo-electric | Opo-electric |
| Positioning precision | ±0.1mm | ±0.1mm | ±0.1mm |
| The maximum coiling diameter | 500mm | 500mm | 500mm |
| Material receiving axle | 2set | 4set | 5set |
| Uncoiling axle | 3set | 4set | 5set |
| Outline dimensions | 1900mm*1300mm*1700mm | 2450mm*1300mm*1700mm | 3000mm*1300mm*1700mm |
| Net weight of machine | 300kg | 400kg | 480kg |
| Total power | 1.13kw | 1.41kw | 1.55kw |
| Power | Single-phase220V | Single-phase220V | Single-phase220V |
| PU/silicone roll | 70-75degrees | 70-75degrees | 70-75degrees |