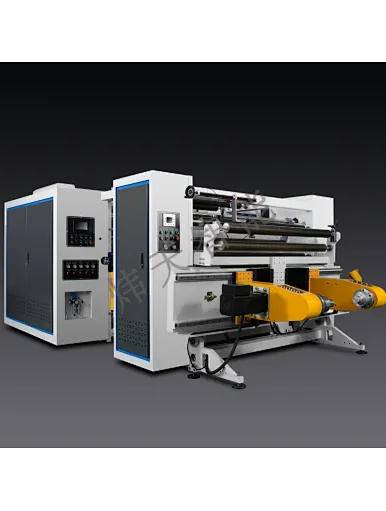 High speed slitting machine
1. Human-machine interface, with the functions of automatic stop of meter counting, automatic detection of remaining amount, automatic speed regulation of line speed, working parameters and display operation status can be set on the screen

2. The main machine and rewinder adopts Chinese good brand independent servo motor and PLC for follow-up control, with the pre-tension system, high speed and stable tension.

3. Rewinder: 3" ball-type friction air shaft, and automatic unload rack is, saves time and labour.

4. Unwinder: integrated 3"/6" universal shaftless loading and unloading, automatic hydraulic lifting, saves time and labour.

5. Automatic pushing function after rewinding

6. Equipped with a negative pressure paper connect unit, saving time for material change.

7. EPC web-guide device.

8. Pneumatic execution and locking.

9. Low-voltage electrical appliances and pneumatic components are Chinese good brand or imported.

10 Adopting the upper and lower shear knife slitting, and razor knife optional.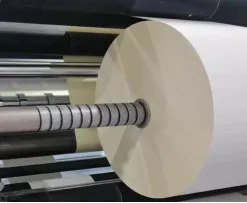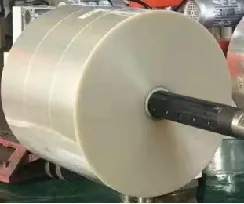 Application range: Different kinds of self-adhesive labels, kraft paper, release paper, etc.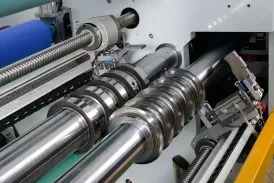 automatic slitting function 
| | | | |
| --- | --- | --- | --- |
| NO. | name | SLM-B1300 |  SLM-B1700 |
| 1 | Max. Unwind Width | 1300mm | 1700mm |
| 2 | Unwind Diameter  | ∮1300mm  | ∮1300mm |
| 3 | Rewind Diameter | ∮650mm | ∮650mm |
| 4 | Slitting Width | 40 mm - 1300 mm | 40 mm - 1600 mm |
| 5 | Slitting Width | 400m/min | 400m/min |
| 6 | Inner paper core size | 3 inch | 3 inch |
| 7 | Slitting accuracy | ±0.1mm  | ±0.15mm |
| 8 |  Rating Voltage | 380V | 380V |
| 9 | Total power | 39KW | 47KW |
| 10 | Machine Size | L4600mm*W2900mm*H2300mm | L4600mm*W3200mm*H2300mm |
| 11 | Machine Weight | 6000kg | 6400KG |
Auto Slitting Parameter
| | | |
| --- | --- | --- |
| NO. | Name | SLM-B1300 |
| 1 | Motor | 2KWServo motor |
| 2 | Min. width | 40mm |
| 3 | Upper knife holder | 10knives |
| 4 | Knife adjustment time | Appr. 3min. |
| 5 | Accuracy | 0.05mm |